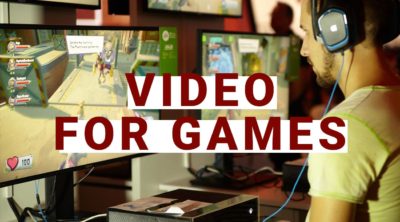 Video /

 Video for Games
Sick, dude!
You'll find tons of compliments on social media in the comments to videos produced by rain! Because we really know our way around video for games. No surprises there: we are games localization experts and one of Germany's leading recording studios in the industry. Cleary, producing "making-of" videos of voice recordings is a closely related expertise. But wait, there's more: influencer videos for release campaigns, advertising, promotional pranks, marketing and PR assets and more!
We don't need to repeat that we LOOOOOOOOOVE creating assets for games- we wouldn't want to slight the other things we…*opens Discord brb
Making-of Voice Recordings Battlefield 1
The voice recording process for the multiplayer part of Battlefield 1 was really special. It was done as a so called "Ensemble recording", which made it an exciting experience for our games localization department. So we had our cameras rolling and produced a really cool video for the Battlefield community.
Interviews with real astronauts for Mass Effect: Andromeda
As a part of the release campaign for Mass Effect: Andromeda, rain productions planned a huge european live event including 6 influencers from 5 different nations, who came together at the European Astronaut Center at the ESA in Cologne. On top of that, we produced a video series showing interviews with real astronauts and ESA scientists mixed with gameplay footage of Mass Effect: Andromeda.
More information on video for games? Request your non-binding offer from rain productions now!
+49 (0)221 984319-34